The Sabrejets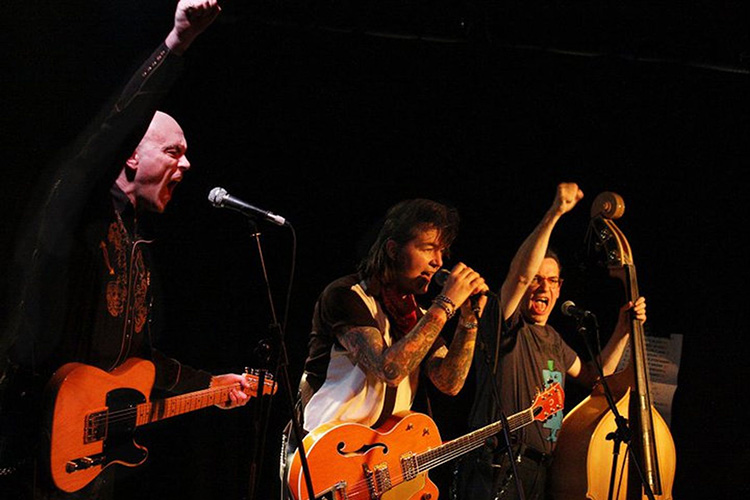 The Sabrejets
The Deer's Head Music Hall
Friday 10 September, 8.00pm
£10.00
Buy Tickets
They're back! A decade on from their last album, Sin-Sational, the Sabrejets have just unleashed another high-octane long-player of timeless rock'n'roll. Featuring fifteen foot-stomping tracks, The Restless Kind is greaser heaven from start to finish.
The Restless Kind is in many ways an appropriate title for the band as well as the album. Core members Brian Young (ex Rudi) on guitar and lead vocals, Liam Killen on guitar and vocals, and "Wild" Bill Johnston on bass have been together for a quarter of a century and show no sign of picking up their pensions anytime soon. Joining the rock'n'roll veterans on this long-player is the newest Sabrejets member Lou Steele on drums and vocals.
Songwriting duties on the album are shared between Young and Killen. The subject matter is classic old-school greaser rock.  Faster Than The Eye Can See is a driving epic featuring guns, booze, and fast cars while Zorita pays tribute to the famous burlesque dancer.
The music throughout is tight and perfectly executed with energetic abandon as guitars twang and riff out blazing solos alongside pounding drums and buoyant bass. The Killen-penned instrumental Lightnin, the Western-inspired Train To Hell, and the deceptively upbeat Don't Turn Your Back On Love could sit easily on the soundtrack of a Tarantino movie.
With subject material that harkens back to the silver age of cinema and black and white movies about fast cars, alcohol, women, and motorcycles, The Restless Kind delivers entertainment in glorious technicolor with rip-roaring music and style.
Doors 7.30pm | Unreserved Seating
Covid protocol – CQAF small venues*
CQAF is committed to facilitating the return of live entertainment and the gradual reopening of events. We are making every effort to provide a safe environment for our audiences, artists, volunteers and staff.
Current conditions of entry are:
·Temperature check on arrival at the venue.
·Please wear a mask while queuing for indoor events and if you have to leave your seat to move around the venue. No masks necessary when seated.
·Visitors to the venues will be allocated seats as per their booking. (Please email us if there's someone you'd like to sit with.
·1m physical distancing in line with government guideline.
·Please do not come to the event if you're displaying any of the symptoms of Covid 19. Email us at info@cqaf.com and we'll happily refund your tickets.
We hope you enjoy the festival. We will review these conditions of entry if COVID-19 guidelines are updated prior to the event.
* This applies to The Black Box, Oh Yeah Music Centre, The Sunflower, Deer's Head Music Hall, The American Bar, Ulster Sports Club, 1st Presbyterian Church, The Dark Horse