Karrie with Jimmy Smyth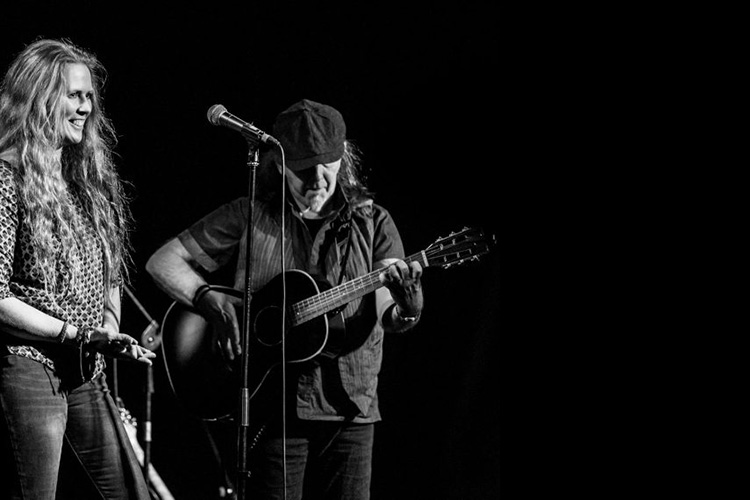 Karrie with Jimmy Smyth
The American Bar
Friday 3 September, 8.00pm 
£15.00
Buy Tickets
Karrie O'Sullivan Holmes is a singer/songwriter from Killarney, Co. Kerry. Jimmy Smyth is a Grammy Nominated Guitarist/Producer/Composer originally from Navan, Co. Meath
Karrie released her debut album of songs Jelly Legged – drawn from a rich well of personal experiences – in 2014. Following widespread acclaim for the album, Karrie was invited to tour with Declan O'Rourke, Mick Flannery and Mary Coughlan and including a live RTE spot with Declan O'Rourke and the RTE Concert Orchestra in the NCH, Dublin.
Her second album, Perpetual Motion brought further acclaim from musicians such as Sharon Shannon: 'Karrie is the Irish Joni Mitchell', Rumer and Mary Coughlan, who has recorded Karrie's song Elbow Deep for her upcoming Album.
The current selection of tunes, about to be released on HyperTension Music, is the result of a collaboration between Karrie and Jimmy. The idea was to record and perform established tunes by their favourite artists: reflecting the Zeitgeist, and using only the 'bare bones' instrumentation, thus highlighting Karrie's remarkable voice.
The CD version of the Home Thoughts album is released in Ireland and the UK on August 28th. It is released in the US on November 6th and the rest of the World on October 6th with the vinyl version to follow.
Doors 7.30pm | Unreserved Seating
Covid protocol – CQAF small venues*
CQAF is committed to facilitating the return of live entertainment and the gradual reopening of events. We are making every effort to provide a safe environment for our audiences, artists, volunteers and staff.
Current conditions of entry are:
·Temperature check on arrival at the venue.
·Please wear a mask while queuing for indoor events and if you have to leave your seat to move around the venue. No masks necessary when seated.
·Visitors to the venues will be allocated seats as per their booking. (Please email us if there's someone you'd like to sit with.
·1m physical distancing in line with government guideline.
·Please do not come to the event if you're displaying any of the symptoms of Covid 19. Email us at info@cqaf.com and we'll happily refund your tickets.
We hope you enjoy the festival. We will review these conditions of entry if COVID-19 guidelines are updated prior to the event.
* This applies to The Black Box, Oh Yeah Music Centre, The Sunflower, Deer's Head Music Hall, The American Bar, Ulster Sports Club, 1st Presbyterian Church, The Dark Horse