SWADDLE Dominic McKeown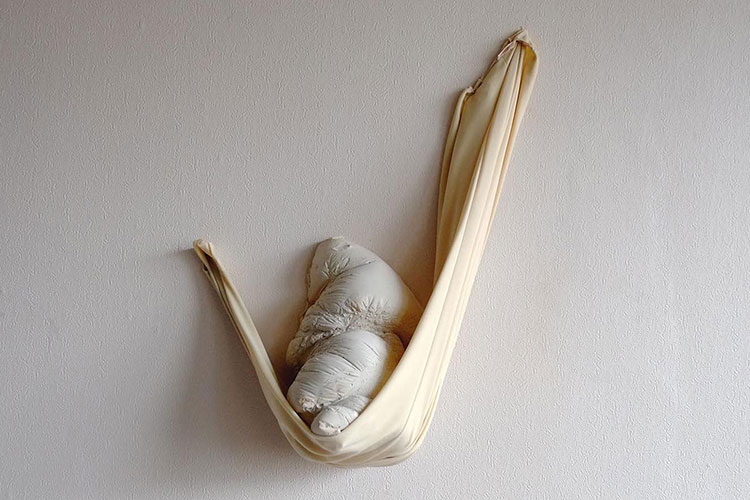 28/04/22 – 13/05/22. Opening: 5pm – 8pm. Open: Tuesday – Friday 11am – 5pm
Address: 109 – 113 Royal Avenue, Belfast BT1 1FF
The University of Atypical is delighted to invite you to SWADDLE, a thought provoking new exhibition by Dominic McKeown. Dominic received the University of Atypical's Graduate Award 2020, with this support Dominic has received mentoring from artists Maud Cotter and Dr Colin Darke in the preparation for his first solo exhibition.
McKeown's work stems from years of exploration into the relationship between the body, materials and structures that envelop us. SWADDLE explores our physical contact and psychological relationship with materials from our past and present experiences, our public and private spaces.
SWADDLE invites us to consider the material value of not only the architectural space of the gallery, but relationship between the viewer and the sculptural work within it. Devised to activate a self-awareness of our own presence within space and the intimacy of scale.
When we're born, we are swaddled in cotton wool; protected from the beginning. The combination of concrete paired with woollen textiles creates tension between the materials and what we expect or understand their function to be. This contrast encourages the viewer to reflect on personal security, confront self-awareness and the conditioning of identity. Using found textile materials, the sculptures aim to embody our knowledge of architectural spaces incorporating items associated with protection, feeling safe or sheltered and personal identity expressed through dress.
We understand concrete as a vigorous material, by wrapping it in wool its hard exterior is cushioned protecting its exposed and vulnerable surface. A mask can provide confidence, security and soften external strains.
ABOUT THE ARTIST
Dominic McKeown (b.1995, Belfast) studied Textile Design, Art and Fashion at Ulster University graduating in 2014. He has based his research and practice within his hometown of Belfast, completing a Masters in Fine Art at Ulster University in 2020. He is a member of Flax Art Studios and is an active worker within the art community within Belfast. He is a Co-Director of Catalyst Arts alongside working as freelance art technician.
For more information – d.mck.art (instagram)
Open: Tuesday – Friday 11am – 5pm
Address: 109 – 113 Royal Avenue, Belfast BT1 1FF
T: 028 90239450
E: administration@universityofatypical.org
W: www.universityofatypical.org