John Martyn Birthday Celebrations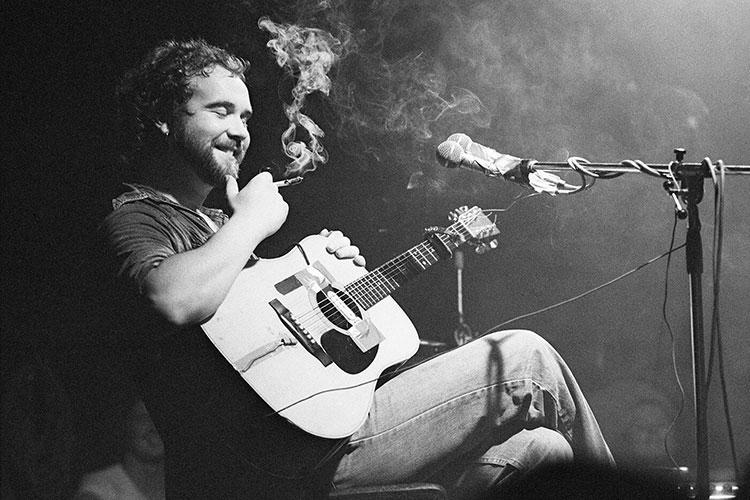 John Martyn Birthday Celebrations
The American Bar
Saturday 11th September, 8.00pm
£12.00 
Buy Tickets
It's over 12 years since John Martyn departed this life leaving us a massive legacy in the form of his catalogue of songs and recordings. Some of this material is very well known beyond his fan base; other songs are more loved by Martyn aficionados.
To mark the big man's birthday on 11th September Old Flat Top agency have invited some Belfast singers/ musicians/fans to perform his music in The American Bar for a one-off celebration as part of the CQAF '21.
Leading the proceedings will be Cliffy McKernan, a devoted John Martyn fan forever. Cliffy uses electric guitar and loop effects to recreate some of the sounds that John incorporated with his use of the Echoplex effects unit that featured on many of his recordings and live performances.
Cliffy's involvement with his hero went beyond his love of John's music. In 2003 his skills as a prosthetics technician were called upon to create a prosthetic leg for John after his amputation.
Expect to hear classic John Martyn songs like One World, Big Muff, May You Never, Couldn't Love You More, Sweet Little Mystery and more from Cliffy with a supporting line-up that will include Tim Cobain.
Doors 7.30pm | Unreserved Seating
Covid protocol – CQAF small venues*
CQAF is committed to facilitating the return of live entertainment and the gradual reopening of events. We are making every effort to provide a safe environment for our audiences, artists, volunteers and staff.
Current conditions of entry are:
·Temperature check on arrival at the venue.
·Please wear a mask while queuing for indoor events and if you have to leave your seat to move around the venue. No masks necessary when seated.
·Visitors to the venues will be allocated seats as per their booking. (Please email us if there's someone you'd like to sit with.
·1m physical distancing in line with government guideline.
·Please do not come to the event if you're displaying any of the symptoms of Covid 19. Email us at info@cqaf.com and we'll happily refund your tickets.
We hope you enjoy the festival. We will review these conditions of entry if COVID-19 guidelines are updated prior to the event.
* This applies to The Black Box, Oh Yeah Music Centre, The Sunflower, Deer's Head Music Hall, The American Bar, Ulster Sports Club, 1st Presbyterian Church, The Dark Horse