Dave Arcari + The Bonnevilles (Online Event)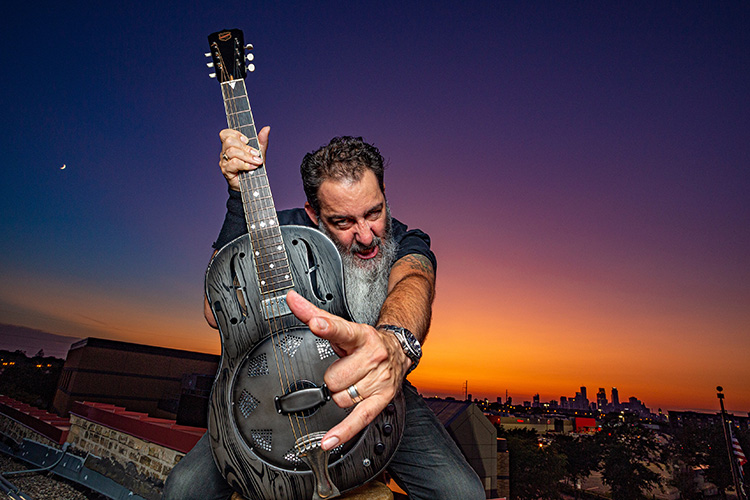 Dave Arcari + The Bonnevilles (Online Event)
Online - Live Stream
Friday 3rd September, 8.00pm
Online event (Free)
Book Tickets
Scottish guitarist & songwriter Dave Arcari's alt.blues sounds owe as much to trash country, punk and rockabilly as they do pre-war Delta blues and have been showcased via ten internationally-acclaimed solo album releases.
Arcari's recent album, Live at Memorial Hall, was released on Buzz Records. As well as showcasing Arcari's trademark National steel guitars, the release features performances on banjo, regular guitar and and cigar box which help capture the full breadth of Arcari's song-writing and performance.
With a busy live schedule in the UK plus regular shows in USA, Finland, Estonia, France, Germany, Belgium, Poland and Ireland, Arcari is one of the hardest gigging live artists on the circuit.
A series of shows with folks including Steve Earle, Alabama 3, Seasick Steve and Jon Spencer along with his relentless UK and European tour schedule have established Arcari as a formidable international solo performer who is fast building a media reputation as a 'hell-raising National guitar madman'.
'Dave plays like he got his skin turned inside out and pretty soon my skin was inside out too listening and it was all good. That boy bleeds for you – he a real down deep player and a soul man…' – SEASICK STEVE
The Bonnevilles
The Bonnevilles are a no-frills guitar-and-drums two-piece from Northern Ireland who play hard-hitting roots music they call "garage punk blues."
Formed in Lurgan and Banbridge in 2009, the Bonnevilles feature guitarist and singer Andrew McGibbon, Jr. and drummer Chris McMullan. McGibbon was a blues fan whose take on the genre was turned upside down by R.L. Burnside's raucous collaboration with the Jon Spencer Blues Explosion, Ass Pocket of Whiskey
Teaming up with McMullan, the group began playing out and in 2010 released their debut album, Good Suits and Fightin' Boots. The band have toured the U.K. and Europe sharing stages with the likes of Bob Log III, the Black Diamond Heavies, T-Model Ford, and Kid Congo Powers. In 2014, the band documented its powerful live show with the album Tape Saturation Overdrive: Live in Belfast.
In 2018 The Bonnevilles released their acclaimed album Dirty Photographs adding more texture to their trademark sound and cementing their reputation as one of Northern Ireland's most vital musical exports.