Mojo Mickeybo by Owen McCafferty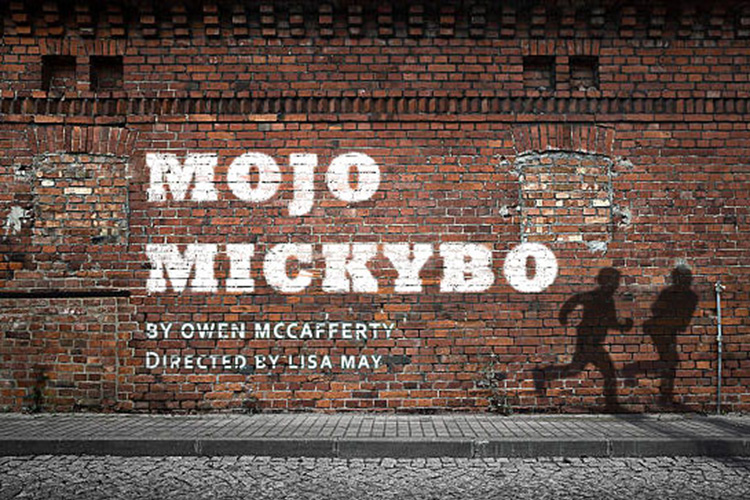 Mojo Mickeybo by Owen McCafferty
Saint Joseph's Church, Sailortown
Friday 10 September, Saturday 11 September, 8.00pm 
£10.00
Book Tickets
Bruiser Theatre Company is proud to present the critically-acclaimed Mojo Mickybo by Belfast playwright, Owen McCafferty.
Mojo Mickybo shows the friendship between two boys growing up in Belfast – a friendship that at first is immune to the sectarian violence taking place around them, but which nonetheless is ultimately destroyed by it.
"Belfast. The summer of 1970. The heat's meltin' the tarmac on the street, the buses are burning bright and punters are drinking petrol outta milk bottles".
Mojo and his mate Mickybo are two nine-year-old boys from opposing sides of the sectarian divide. They are 'thick as two small thieves', playing headers, being mouthy, building huts, spitting from cinema balconies and re-enacting their favourite movie, Butch Cassidy and the Sundance Kid.
They are young cowboys in the making, with the violence of The Troubles only obliquely impacting on them – until finally their friendship is destroyed in a way that they only later come to understand.
This is pure, undiluted storytelling in Bruiser's trademark dynamic physical style. Fast-paced, darkly funny and action-packed. Not to be missed!
'A glorious, vivid play full of verbal swagger…creates vast emotional ripples…lethal'. THE GUARDIAN
Doors 7.30pm | Unreserved Seating
Covid protocol – CQAF small venues*
CQAF is committed to facilitating the return of live entertainment and the gradual reopening of events. We are making every effort to provide a safe environment for our audiences, artists, volunteers and staff.
Current conditions of entry are:
·Temperature check on arrival at the venue.
·Please wear a mask while queuing for indoor events and if you have to leave your seat to move around the venue. No masks necessary when seated.
·Visitors to the venues will be allocated seats as per their booking. (Please email us if there's someone you'd like to sit with.
·1m physical distancing in line with government guideline.
·Please do not come to the event if you're displaying any of the symptoms of Covid 19. Email us at info@cqaf.com and we'll happily refund your tickets.
We hope you enjoy the festival. We will review these conditions of entry if COVID-19 guidelines are updated prior to the event.
* This applies to The Black Box, Oh Yeah Music Centre, The Sunflower, Deer's Head Music Hall, The American Bar, Ulster Sports Club, 1st Presbyterian Church, The Dark Horse