Gay Chorus Deep South – Film Event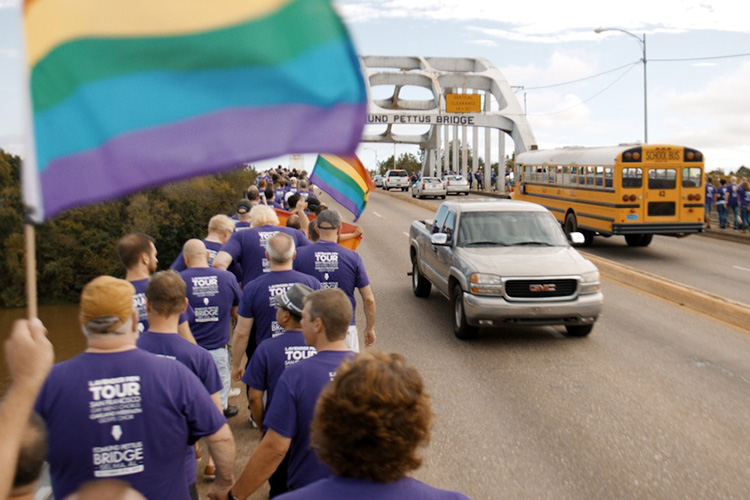 Gay Chorus Deep South – Film Event
The Black Box (Green Room)
Sunday 12 September, 2.00pm
£5.00
Buy Tickets
In response to a wave of discriminatory anti-LGBTQ laws and the divisive 2016 election, the San Francisco Gay Men's Chorus embarks on a tour of the American Deep South.
The tour brings a message of music, love and acceptance to communities and individuals confronting intolerance.
Over 300 singers travelled to Mississippi, Alabama, Tennessee, South Carolina and North Carolina. They performed in churches, community centres and concert halls in hopes of uniting us in a time of difference.
The journey also challenges Chorus members who fled the South to confront their own fears, pain and prejudices on a journey towards reconciliation. The conversations and connections that emerge offer a glimpse of a less divided America, where things that divide —faith, politics, sexual identity—are set aside by the soaring power of music, humanity, and a little drag.
"To heal the country and move on, we must reach across the divide and listen to one another…But the big surprise of the film is how its progressive-minded main characters…do most of the growing here."
— PETER DEBRUGE,VARIETY
"…engaging and colourful…the film [signals] that hope and humanity can prevail, even in the darkest of times."
— NIKKI BAUGHAN,SCREEN DAILY
Doors 1.45pm | Unreserved Seating
Supported by Film Hub NI, part of the BFI Film Audience Network, awarding funds from National Lottery.
Covid protocol – CQAF small venues*
CQAF is committed to facilitating the return of live entertainment and the gradual reopening of events. We are making every effort to provide a safe environment for our audiences, artists, volunteers and staff.
Current conditions of entry are:
·Temperature check on arrival at the venue.
·Please wear a mask while queuing for indoor events and if you have to leave your seat to move around the venue. No masks necessary when seated.
·Visitors to the venues will be allocated seats as per their booking. (Please email us if there's someone you'd like to sit with.
·1m physical distancing in line with government guideline.
·Please do not come to the event if you're displaying any of the symptoms of Covid 19. Email us at info@cqaf.com and we'll happily refund your tickets.
We hope you enjoy the festival. We will review these conditions of entry if COVID-19 guidelines are updated prior to the event.
* This applies to The Black Box, Oh Yeah Music Centre, The Sunflower, Deer's Head Music Hall, The American Bar, Ulster Sports Club, 1st Presbyterian Church, The Dark Horse