Zoë Conway & John McIntyre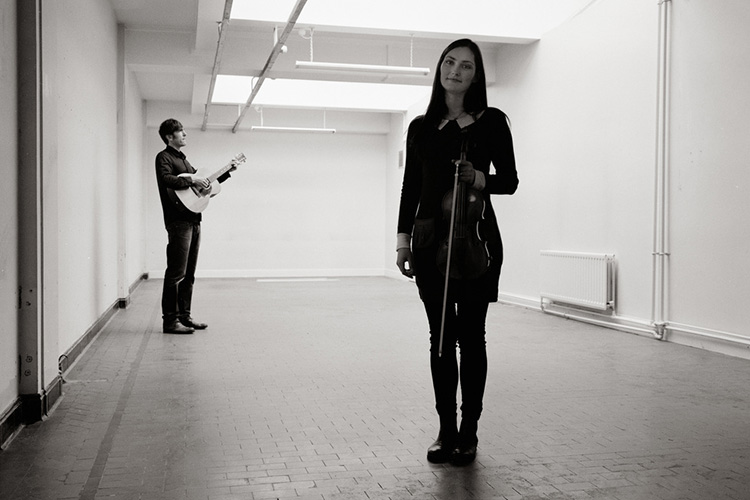 Zoë Conway & John McIntyre
The Black Box - Live Streamed Event
Wednesday 26 January, 1.00pm
FREE
Book Tickets
With an exciting blend of eclectic fiddle and guitar music, Zoe Conway and John McIntyre bring to the stage sympathetic arrangements of traditional Irish music, compositions and songs, old and new.
The husband and wife folk duo possess a rare facility to draw pieces into their repertoire from other genres such as classical, jazz and world music and express this material in way which not only displays the sheer range and knowledge of both instrumentalists but also exhibits the wonderful versatility of their instruments.
Their debut duo album, entitled Go Mairir I Bhfad (Long Life To You), received a glorious 5 stars from The Irish Times.  For this unique album, they commissioned twelve leading Irish composers to each compose a piece specifically for Zoë and John, for fiddle and guitar, with the aim of collectively presenting a snapshot of traditional Irish music alive today.  The renowned composers who took part in the project were Liz Carroll, Steve Cooney, Frankie Gavin, Andy Irvine, Charlie Lennon, Donal Lunny, Máirtín O'Connor, Peadar Ó Riada, Mícheál Ó Súilleabhán, Tommy Peoples, Niall Vallely and Bill Whelan.
Zoë, no stranger to the stage, has performed with an impressive list of international artists including Riverdance, Damien Rice, Lou Reed, Nick Cave, Rodrigo y Gabriella to mention but a few.  In contrast to this, she has been an important figure within classical music circles in Ireland and abroad, as her crossover discipline has allowed her the pleasure of appearing as soloist with acclaimed orchestras such as The Irish Chamber Orchestra, National Symphony Orchestra, BBC Symphony Orchestra and German WDR Symphony Orchestra;
Zoë has recorded on major film soundtracks including award winning Float Like A Butterfly (Samson Films 2018), Artemis Fowl (Disney 2020), and the duo have recorded on Finding You (Red Sky Studio 2021) and Riverdance The Animated Adventure (Universal 2021).
John grew up in the Cooley Mountains of north County Louth where he took up guitar at 8 years of age. John studied classical guitar and piano for many years, and from early childhood was immersed in the language, songs and traditional dance music of south west Donegal – his father's homeplace.
Together, Zoë Conway and John McIntyre have been described as "simply one of the best folk duos on the planet" (BBC), and audiences in Ireland and beyond keep coming back for more.  They were awarded Best Live Show from popular YouTube channel, Balcony TV, and have received in excess of a combined half a million views online.
"An ceol is binne agus is cruinne dá gcuala mé riamh."
"Zoë Conway – Folk Instrumentalist of the Year 2020"  (RTE Radio 1 Folk Awards)
"Simply one of the best folk duos on the planet" (BBC)
Doors 12.30pm | Unreserved Seating