Hollie McNish: Slug Tour – SOLD OUT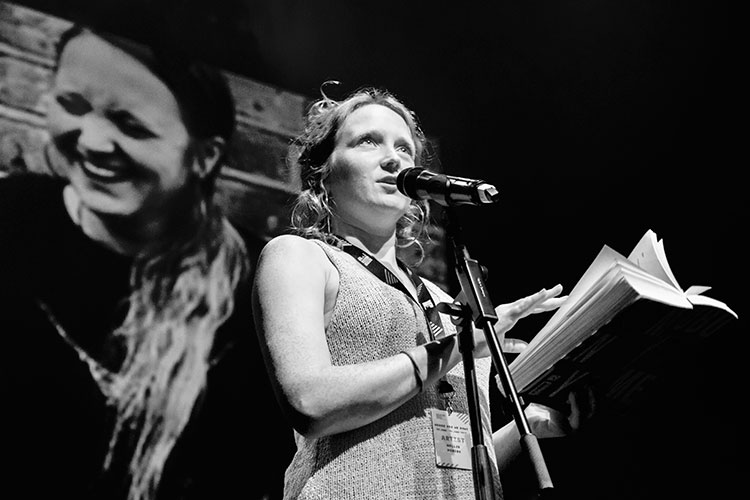 Hollie McNish: Slug Tour – SOLD OUT
Rescheduled - See 'CQAF 2022' below
Saturday 15 January, 2.00pm
£10.00
Sold Out
Rescheduled until Sunday 8 May, buy tickets here.
Ted Hughes Award winner Hollie McNish is a poet whose live readings are not to be missed. Expect strong language and adult content ribbon wrapped in poetry and chat as Hollie reads from her new collection: Slug…and other things I've been told to hate.
Hollie is a writer based between Cambridge and Glasgow. She has published four poetry collections Papers, Cherry Pie, Plum, Slug, one play Offside and one poetic memoir Nobody Told Me, of which the Scotsman suggested "The world needs this book". She was the first poet to record at Abbey Road Studios.
Her poems have been translated into French, German, Spanish, Hungarian, Polish and Japanese and she has performed them worldwide alongside the likes of Irvine Welsh, Kae Tempest, Jackie Kay, Helen Pankhurst and Young Fathers. Her new title – Slug: and other things I've been told to hate – is published in May 2021 with Fleet, Hachette, available now to pre-order.
As well as live readings, Hollie is a big fan of online accessibility – her poetry videos have attracted millions of viewings worldwide.
About Slug…
From Finnish mermaids and soppy otters to Kellogg's anti-masturbation pants, Slug is a book that holds a mirror up to the world, past and present, through Hollie's driving, funny and beautiful words. A blend of poetry, memoir and short story, Slug is an absolutely joyful read about the human condition: from birth to death and her attempt to manage the tangle in-between.
'She writes with honesty, conviction, humour and love. She points out the absurdities we've grown too used to and lets us see the world with fresh eyes'
Kae Tempest
Doors 1.45pm | Unreserved Seating