Luka Bloom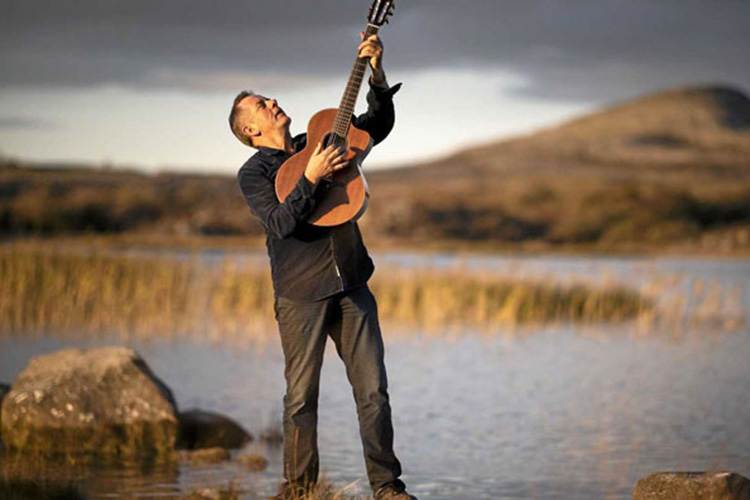 Luka Bloom
The Black Box
Sunday 5 September, 8.00pm
£15.00
Sold Out
Out of the Blue is the beautiful new album by Luka Bloom. Regarded as one of Ireland's most respected contemporary folk artists, Bloom continues to push the boundaries of what his music can do. A master interpreter, Bloom has continued to balance original songs with reinventions of tunes by a diverse range of songwriters.
Like many who write songs, Luka's orchestra of choice is the guitar. What makes his career a little different is his constant search for a new voice within the guitar. The guitar is the landscape on which the song is created, and he is forever probing that landscape for new inspiration. No effects, no gadgets.
Time, effort and a whole lot of love bring forth new voicings within the instrument, and bit by bit, the songs come to life. And eventually they fly, bringing Luka with them to be heard in Byron Bay, San Francisco, Hamburg, or even Doolin.
'I did my first gig in Belfast in the dark old days of 1976. I was booked by Geoff Harden to sing in The Sunflower club. And since that time I have sung in Belfast for over 40 years now. Opening for Bert Jansch in the old McMordie Hall in Queens, the Rotterdam; The Errigal, The Waterfront, to name but a few. But in recent years I have only sung my songs in The Blackbox. It is an intimate, welcoming venue, with a good sound, and great people there. We always have a good time. No opening act; just myself and my 3 guitars. A lot of songs, and the best audience in Ireland.' – Luka Bloom 
Covid protocol – CQAF small venues*
CQAF is committed to facilitating the return of live entertainment and the gradual reopening of events. We are making every effort to provide a safe environment for our audiences, artists, volunteers and staff.
Current conditions of entry are:
·Temperature check on arrival at the venue.
·Please wear a mask while queuing for indoor events and if you have to leave your seat to move around the venue. No masks necessary when seated.
·Visitors to the venues will be allocated seats as per their booking. (Please email us if there's someone you'd like to sit with.
·1m physical distancing in line with government guideline.
·Please do not come to the event if you're displaying any of the symptoms of Covid 19. Email us at info@cqaf.com and we'll happily refund your tickets.
We hope you enjoy the festival. We will review these conditions of entry if COVID-19 guidelines are updated prior to the event.
* This applies to The Black Box, Oh Yeah Music Centre, The Sunflower, Deer's Head Music Hall, The American Bar, Ulster Sports Club, 1st Presbyterian Church, The Dark Horse