Trad for Lunch with Dónal O'Connor, Harry Bradley and Libby McCrohan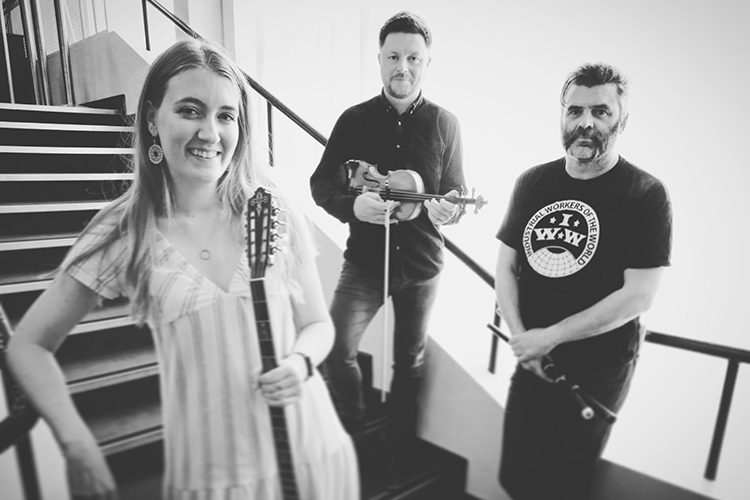 Trad for Lunch with Dónal O'Connor, Harry Bradley and Libby McCrohan
The Black Box
Friday 13 January, 1.00pm
£10.00 (including lunch)
Sold Out
Harry Bradley and Dónal O'Connor first met in the late 1990's on the vibrant Belfast traditional music session scene. A common grá for the music of South Ulster and North Connaught was the thread on which they shared interests. However, they ventured on their own unique musical journeys thereafter.
Since Harry's recent return to Belfast, they have rekindled a musical friendship and are mining the rich repository of northern music which has been left by the likes of Andy Dixon, Cathal McConnell, Ciaran Carson, Desi Wilkinson, Tara Bingham, Johnny & Seán Maguire, Gary Hastings and many more. Today's performance is a new musical coming together with one of Ireland's finest young musical accompanists Libby McCrohan.
Harry Bradley was born in South Belfast. The vibrant recording heritage from the 1920s and 30s has had a huge influence on his flute-playing style. Noted for his unique tone and driving rhythm, Harry has come to be recognized as one of the most distinctive flute players in Ireland today. In 2014 he was the recipient of the TG4 Gradam Cheoil Traditional Musician of the Year Award.
Dónal O'Connor has inherited a musical legacy of five generations of fiddle playing. His style is heavily influenced by his family, the Oriel tradition and the great northern fiddle masters such as Seán Maguire, Bríd Harper and Tommy Peoples. Having toured the world and recorded critically acclaimed albums with groups such as Lá Lugh, At First Light and more recently Ulaid, he has since established himself as one of Ireland's leading television and music producers. He has composed music for theatre, television and film and has presented and produced music programmes for RTÉ, BBC ALBA, BBC NI, TG4, BBC Radio Ulster and Raidio Na Gaeltachta.
Libby McCrohan is a bouzouki player from Dublin. She plays an original round back Greek bouzouki. Her approach to accompaniment is sensitive, subtle, and rhythmical, taking inspiration from the regulator playing of uilleann pipers. Libby has performed all over Ireland and abroad and has featured on two albums to date – the critically acclaimed Heard a Long Gone Song by Lisa O'Neill and Not Before Time… 39 Years in the Making by Páraic Mac Donnchadha.
Doors 12.30pm | Unreserved seating