Cathedral Quarter Arts Trail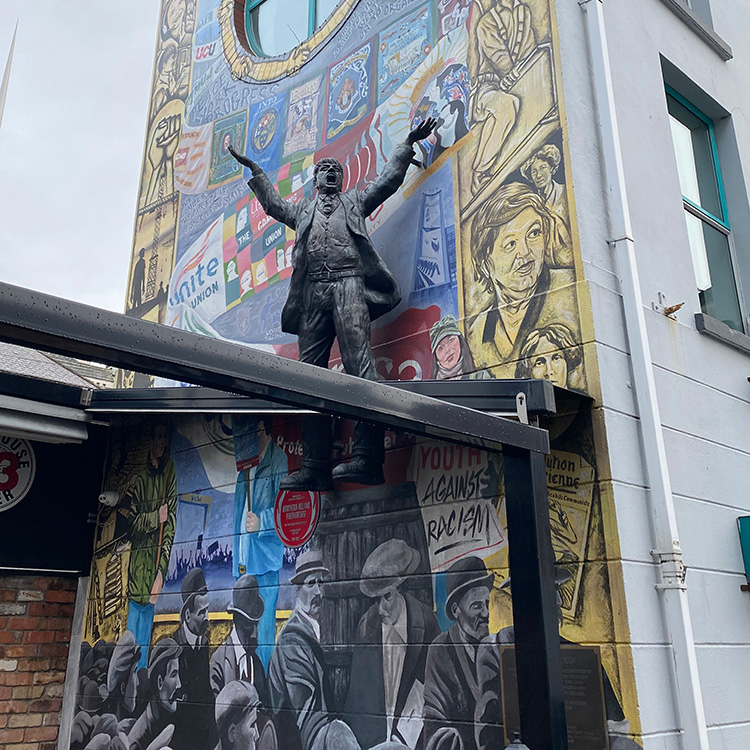 Cathedral Quarter Arts Trail
Leaves The Black Box
Saturday 28 January, 1.00pm
£12.00
Sold Out
This new walking tour uncovers the history of the city's emergent Cultural Quarter. Your guide will help you to see and appreciate more of what is in plain sight on our streets – if we only look up, or down.
Starting from The Black Box, the group will stroll down narrow entries, cross open squares, view historic and landmark buildings, public artworks and lively music venues – thoroughly exploring the Cathedral Quarter.
The tour will take in Writer's Square, The Common Market, the Oh Yeah Music Centre, The MAC and Exchange Place.This entertaining and insightful 'Cathedral Quarter Arts Trail' will:
Point out some of the exciting and colourful pieces of street art and public sculptures, identifying the artists.
 Show you features of the area associated with Belfast writers and poets. – Visit a music exhibition and consider Belfast as a UNESCO City of Music.
 Help you to see the city's historic 'Entries' in a new light.Please arrive outside The Black Box five minutes before the start time. Come prepared for all weather and to walk up to 1.5 miles, including on several cobbled streets.
Tickets £12.00
PRACTICAL DETAILS
Saturday 28 January, 1-2.30pm
Tour starts from and returns to: The Black Box, Hill Street
Duration: approx. 90 minutes