Kitty La Roar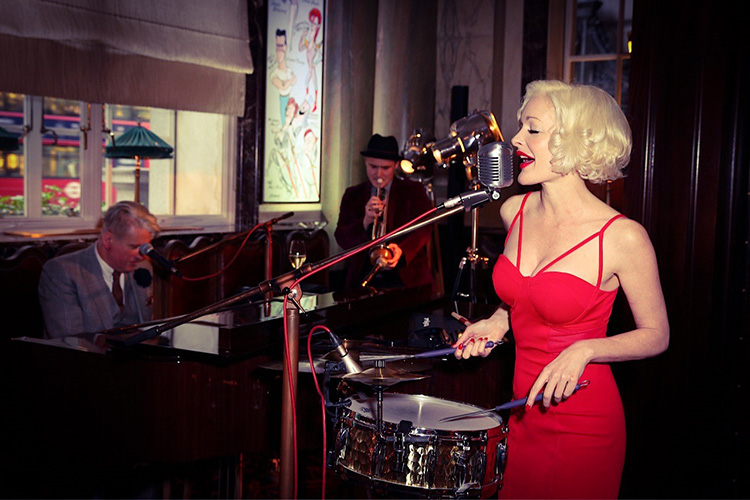 Kitty La Roar
The Black Box
Tuesday 24 January, 1.00pm & 8.00pm
£10.00 (lunch included with afternoon show)
Buy Tickets
'When Kitty sings, music stops to listen' – Jazz in Europe Magazine
London based singer Kitty La Roar makes her Belfast debut at Out to Lunch – singing, scatting and free-styling at the drums.
Originally inspired by Ella Fitzgerald and Sarah Vaughan, stylish UK-based singer Kitty La Roar's unique talents are not just as silky voiced songstress, scat-singer and drummer: she has an spellbinding ability to freestyle lyrics to melody on the spot, telling stories that are not only relevant to the song she is singing, but often weaving in references to life, love, nature, politics, current events, and even to people in the audience.
She performs highly original songs by Kitty and her pianist Nick Shankland and although the genre is clearly jazz, this unpredictable and eclectic music entrances and engages the audience.
The band will be showcasing original compositions from the album Valentine's Eve, as well as original lyrics to the music of Monk, Ellington, Strayhorn and Sonny Rollins.
Kitty La Roar – vocals / drums
Nick Shankland – piano vocals / bass keys
Doors 12.30pm | Unreserved seating
"A force of nature" – Michael Feinstein
"Simply mesmerising!" – Rye Jazz Festival
"Chic chanteuse" – The Independent
"Fantastic!" – OK Magazine
"Seductive.. world class vocals" – Penthouse Magazine