New Pagans, Cherym & Mel Bradley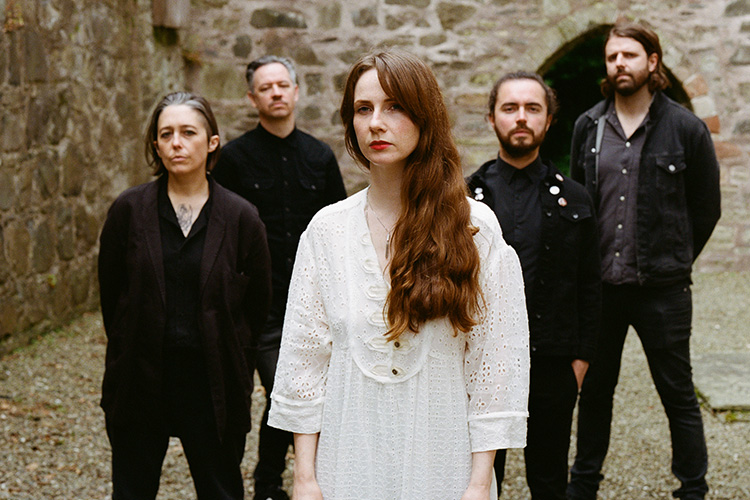 New Pagans, Cherym & Mel Bradley
Online - Live Stream
Friday 22 January, 8.00pm
Online event (Free)
Postponed
Belfast band New Pagans latest single Yellow Room was released August 2020 and went on to become Steve Lamacq's 'Record Of The Week' on his BBC 6 Music show. The track takes inspiration from the novel The Yellow Wallpaper by Charlotte Perkins Gilman, which is celebrated as an important piece of early American feminist literature.
The band use their creative influence to challenge past and present issues surrounding relationships, equality, history, and gender, all wrapped up in their alternative, post-punk, indie rock style.
New Pagans are one of the most exciting and interesting rising acts, both sonically and visually. The band's name is a reference to the Latin paganus, originally meaning villager or outsider, reflecting their mission to stay removed from the city rules and the orthodox.
One of the band's first releases – in September 2016 – was Lily Yeats, a tribute to the sister of poet William Butler Yeats and the artist Jack Butler Yeats, influenced by singer Lyndsey's study of Women's History in Ireland.
Skip to pre-pandemic 2020, the band toured the UK in support of  Glacial Erratic – a 6-track EP, which featured the singles it's Darker, NI Music Prize 2020 'Best Single' nominee 'Charlie Has The Face Of A Saint' and Admire.  The EP has saw a wave of support for the band from BBC Radio 6 Music and Radio 1 by the likes of Chris Hawkins, Daniel P Carter, Phil Taggart, Huw Stephens and Jack Saunders as well as  BBC Introducing, Kerrang Radio, Amazing Radio and more. They went on to win 'Best Live Act' at the 2020 Northern Ireland Music Prize.
The New Pagans voice is a loud and important one, with much more still to come for 2020 and beyond. We're delighted to welcome them to Out to Lunch.
Cherym
Serving up their own unique recipe of pop-rock, Cherym are a three-piece from Derry. The trio's identity was born of a joint love of Garage Rock, Pop Punk and a desire to be the biggest band in the world.
Their self-released debut EP Mouthbreatherz racked up over 20,000 organic streams and garnered them fans all over Ireland, earning them slots at a number of prominent festivals and support roles for notable bands such as local legends And So I Watch You From Afar and Fangclub. Cherym won the 'Oh Yeah Contender' award at the NI Music prize in 2019, which was sponsored by BBC Introducing.
The band released their latest singles 'Abigail // Weird Ones'  in May 2020, which has been their most successful release yet, with support from both DSP editorial play-listing and National radio. Abigail has received support from BBC Introducing, where it debuted on Huw Stephens' show. In February 2020, the band embarked on a series of dates with Yonaka, including sold-out shows in Dublin and Belfast. In August 2020, Abigail was nominated for best single at the NI Music Prize.
Mel Bradley
Mel Bradley is a spoken word artist, writer, theatre-maker, multimedia artist and actor. She is an ACNI and DCSDC supported outspoken queer feminist performer with an unhealthy obsession with the Virgin Mary.
Mel has performed at various festivals and venues from the Royal Albert Hall to Body & Soul and Edinburgh Fringe. She is the writer of Proud To Be – Beyond the Labels of Me commissioned by the Playhouse Theatre, a play examining the lived experiences of LGBTQ+ people living in Northern Ireland. Her show Ms Noir's Seven Deadly Sins was livestreamed as part of the Derry Halloween online programme.