Brìghde Chaimbeul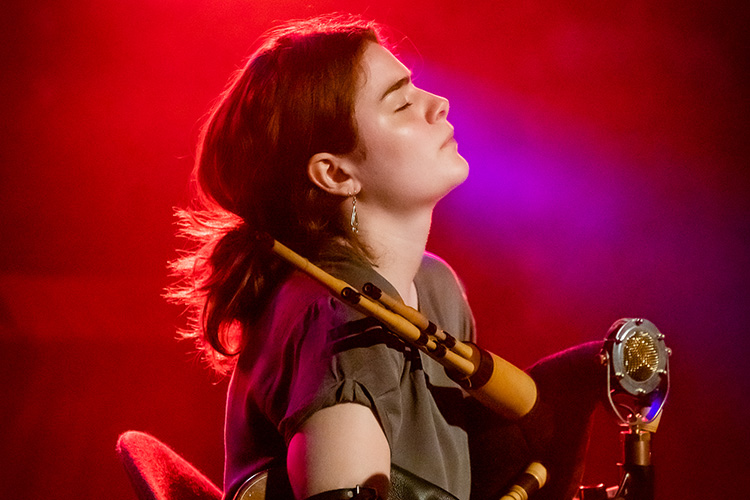 Brìghde Chaimbeul
Online - Live Stream
Sunday 17 January, 2.00pm
Online event (Free)
Book Tickets
Brìghde Chaimbeul (Solo)
Winner of the 2016 BBC Radio 2 Young Folk Award, and 2017 Scots Trad Music Awards 'Up and Coming' nominee, Skye musician and piper Brìghde Chaimbeul is one of Scotland's fastest rising stars.
A native Gaelic speaker, her style is rooted in her indigenous language and culture, but draws inspiration from a variety of piping traditions such as from Cape Breton, Eastern Europe and Ireland.
Brìghde launched her debut album The Reeling on River Lea Records at a special concert at Celtic Connections 2019. The record is inspired by old tunes from the gaelic song traditions, as well as global piping traditions that have been of significant influence to Brìghde's music.
It is performed entirely on smallpipes in C, and features acclaimed fiddler Aidan O Rourke (Lau), the legendary Rona MacDonald Lightfoot of South Uist, and the amazing Radie Peat (Lankum) on concertina.
Working closely with Aidan O'Rourke, Brìghde has devised a completely new way of arranging for pipe music that emphasises the rich textural drones of the smallpipes; the constancy of sound that creates a trance-like quality in the tunes. This will be very special.
"Simultaneously ancient and modern, profound and direct."
Folk Album of the Month – The Guardian
"A unique, exciting and forward-looking album that sets the bar for 2019 very high indeed."
– The Quietus
"Exciting, unusual and gorgeous."
– Songlines
"Pure, vital energy… exceptional playing."
– Folk Radio