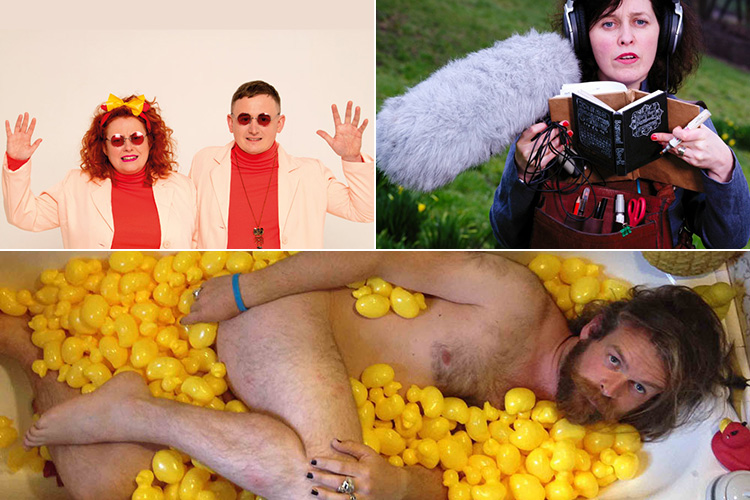 Bivouac Comedy Club presents...
The Delightful Sausage and Joanna Neary + Paul Currie
The Black Box
Sunday 19 January, 8.00pm
£10.00
Book Tickets
Tonight's show is the second outing of Bivouac Comedy Club. Curated and hosted by Edinburgh Comedy Award winner, Paul Currie, Bivouac features the best alternative comedy from across the UK and beyond.
The Delightful Sausage
The Delightful Sausage is a surreal sketch comedy double act created by Amy Gledhill and Chris Cantrill.
The duo have been delighting audiences and perplexing middle class reviewers since 2017. Ginster's Paradise is their most recent show. It was nominated for 'Best Show' at the Edinburgh Comedy Awards and is gearing up for a massive 2020.
Despite achieving great fame and a level of personal wealth which would make a pharaoh blush, both Amy and Chris are incredibly humble.
'Fun and hilariously sinister' – THE TIMES            'A Cult Hit' – THE GUARDIAN
Joanna Neary
One of Bivouac's favourite acts is Joanna Neary whose skewed clowning is gloriously different and inspired.
Joanna's forte is superbly off-kilter sketches. One moment she is a sublimely funny Bjork, the next she is a netured cat sporting a boater and a stoic grin. An immaculate Brief Encounters parody encapsulates a lost age of repressed passion, snobbery and lumpy marmalade.
'A performer who is one of the most naturally funny stand-ups around' – THE STAGE
Doors 7.45pm | Unreserved Seating