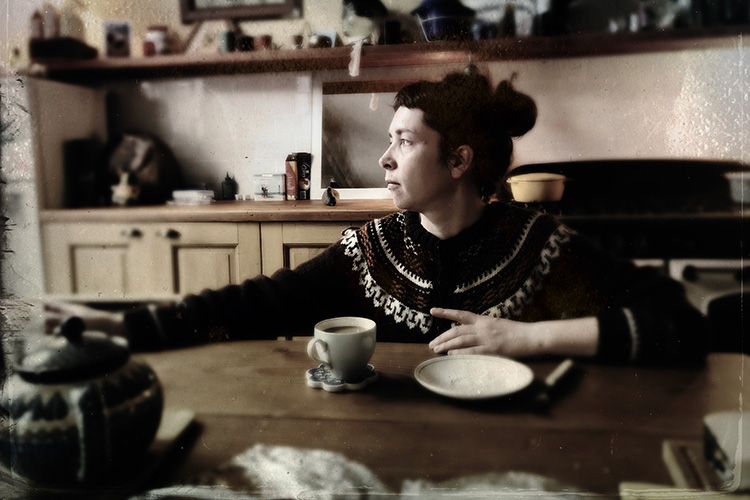 Lisa O'Neill + special guest Kú Kilian
The Black Box
Friday 3 May, 8.00pm
£10.00
Book Tickets
With support from Kú Kilian.
Lisa O'Neill from Cavan is an Irish songwriter like no other. Her roots may be sourced in folk and traditional music but her work opens up a landscape beyond any settled sense of genre.
On her last album, Pothole in the Sky, she has set her remarkable incisive voice against impressionistic instrumental back-drops, like Margaret Barry colluding with the Dirty Three or some such meeting of minds.
Over the years she has quietly built a reputation for herself on the Irish and international scenes and now has a growing following with her unique folk sound, strong song-writing and distinctive voice.
Her work is filled with tension and emotion, contextualizing themes of love, loss, heartache and sorrow today through referencing tales from the past with beauty, honesty and defiance.
Lisa's latest release Heard A Long Gone Song has garnered huge acclaim.  It has recently been ChoiceNominated, had a 5/5 star review from The Guardian on release and a coveted Best Folk Album of 2018 from the same publication.
'At a time when sameness threatens to drain the world of charm and surprise, Lisa O'Neill stands tall for difference, as an outlier with a mission to frame the world as she sees it and to perform it accordingly. Her voice is her own. No small achievement.' THE IRISH TIMES
'It's uncompromising, stunning, soul-shaking stuff' – THE GUARDIAN OCTOBER 2018 5*****
'A record that is personally political, uniquely beautiful, heartfelt and witty. And perhaps as timeless as the passed down songs Lisa sings as if they were hers.' – FOLK UK
KÚ KILIAN
Kú Kilian is a folk singer and a songwriter from Dublin, Ireland. Having spent the past four years performing around Ireland as a solo act, he has been the guest singer at "The Night Before Larry Got Stretched" as well as performing opening slots for "Skipper's Alley", "Lisa O'Neill" and most recently "The Sick And Indigent Song Club". Kú Kilian is also an accomplished Traditional Irish Musician (Fiddle and Guitar) having played in a number of countries including Germany, China and the U.S.
Doors 7:45pm | Unreserved Seating