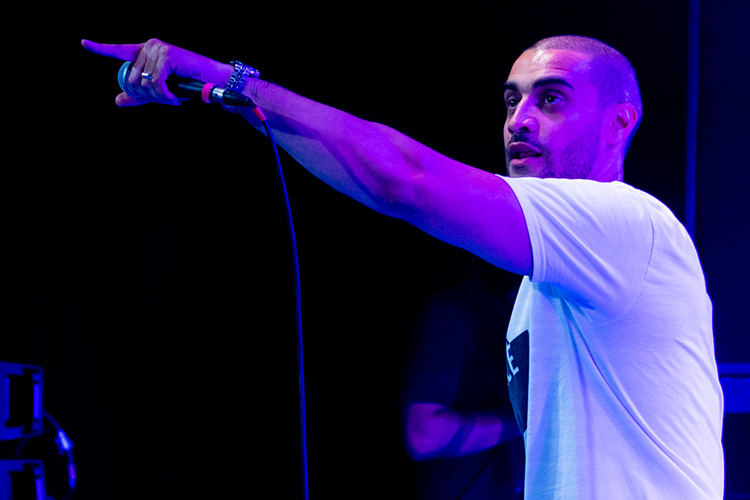 In association with Elixir
Lowkey
Oh Yeah Centre
Friday 3 May, 8.00pm
£12.00
Book Tickets
One of the UK's most potent and electrifying rappers, Lowkey is a towering figure of the scene who renews the old tradition of conscious hip-hop activism for the war on terror generation.
Fusing politically charged lyrics and deft dissection of topics such as race, war, global poverty and politics with anthemic choruses and unrelentingly energetic performance, Lowkey commands a keen and growing legion of followers – still treading new ground and generating fresh hysteria 14 years after releasing his first mixtape.
Born Kareem Dennis in London in 1986 to an Iraqi mother and English father, he first started rapping at the age of 12 and cut his teeth at Carnaby Street's legendary Deal Real records.
After releasing his respected 2003 Key to the Game mixtape, he took a hiatus and returned in 2009 with debut full length Dear Listener, at the same time as releasing an album with Reverend and the Makers frontman Jon McClure, Arctic Monkeys drummer Matt Helders and members of Babyshambles to form the group Mongrel.
Following several humanitarian aid missions in Palestine and various charity projects, he released his critically acclaimed sophomore outing, Soundtrack to the Struggle, in 2011.
Back on form and with a slew of new releases and collaborations including his poignant singles Ahmed & Children of Diaspora alongside a largely sold-out UK tour in 2016, Lowkey is out of retirement and ready to make more memorable marks in the global hip-hop consciousness.
"Arguably the biggest name on the UK hip-hop underground scene" The Guardian
"Soundtrack To The Struggle solidifies Lowkey's position at the forefront of UK hip hop" SBTV
Doors 7.30pm | Very Limited Unreserved Seating