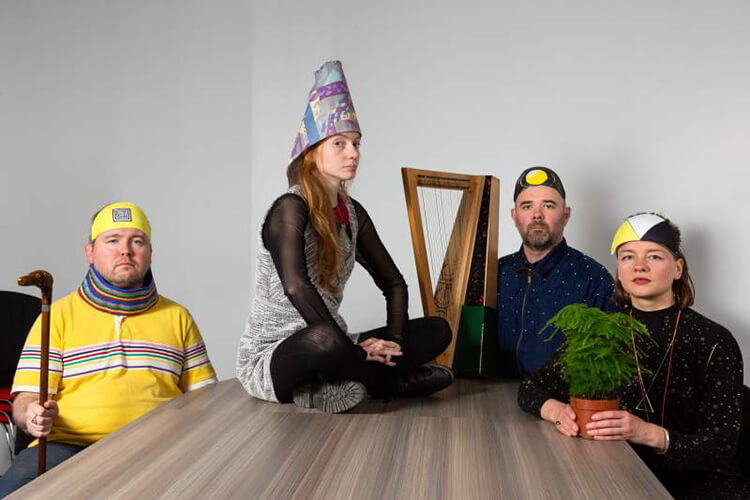 In association with Moving on Music
Hen Ogledd
Voodoo
Thursday 2 May, 8.00pm
£12.50
Book Tickets
The four musicians of Hen Ogledd (Richard Dawson, Rhodri Davies, Dawn Bothwell, Sally Pilkington) each hail from historically different tribal regions of the Old North, and come together to create Mogic – a record that challenges the idea that the ancient world was rife with magic, while the new is infiltrated by cold logic.
The tracks on Mogic create new phantasmal blends of images and ideas that draw upon the mystical and technological.
Mogic is a discombobulating pop prayer exploring artificial intelligence, witches, nanotechnology, pre-medieval history, robots, romance, computer games and waterfalls.
This dynamic record of eddies and swirls, ravishing melodies, hallucinatory textures and bonkers rhythms is pinned down by some deft performances: Pilkinton's picture-perfect pop and earthy singing, Davies' blazing harp splutterations and guitar moans, Bothwell's twisted telephone techno and bamboozling lyric-bombs and Dawson's utter bass.
'Phantasmal electronic, squelching synths and a bass that almost clangs with detuning.' – Wire
'While it's easily the most accessible material from the project to date, a few listens will reveal that it's every bit as chaotic as their early outsider sounds.' –  All Music
Their improvisational roots are still evident, but the bursts of outsider pop shining through proves they have plenty more to dig up.' –  Mojo
Doors 7.45pm | Limited Unreserved seating