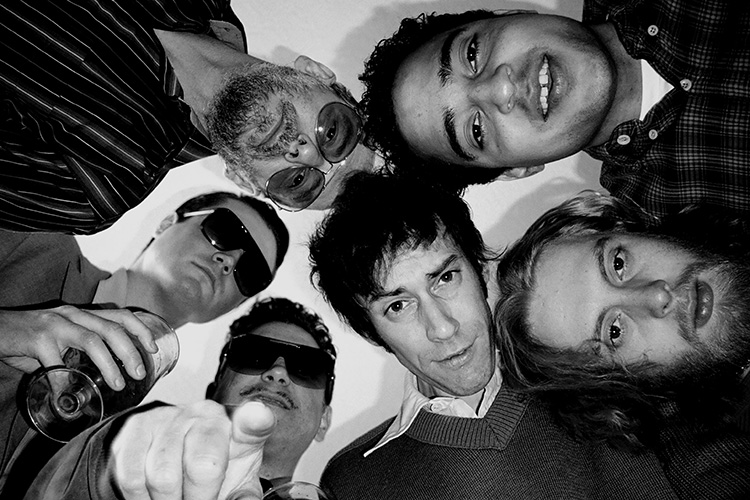 Warmduscher
Festival Marquee
Saturday 6 May, 8.00pm
£15.00
Written over a period of over a year in lockdown, At the Hotspot, produced by Joe Goddard and Al Doyle of Hot Chip, takes the raucous energy Warmduscher solidified on their critically acclaimed 2019 release Tainted Lunch, and injects it with a slightly more polished, '80s funk sound, kind of like stumbling home to your squatted loft after a drunken night at the local disco.
It's crunchy on the outside, smooth on the inside, and might be the most immediately enjoyable music Warmduscher have ever graced us with.
The bulk of Warmduscher's discography – the aforementioned Tainted Lunch, as well as 2018's Whale City and 2016's Khaki Tears – were produced by London stalwart Dan Carey, who was instrumental in helping the band hone their fuzzed out sound.
Unfortunately, at the beginning of At the Hotspot's recording process, Dan caught COVID, and the band found themselves having to leave their comfort zone and find a new producer fast.
Luckily, they found two, under serendipitous circumstances.  "I was in the studio with Joe and Al of Hot Chip, doing an electronic project with Igor Cavallera of Sepultura and his wife, artist/musician Laima," explains Clams. "When I got the message saying Dan couldn't do the album, I was like, 'Aw, fuck!' Then Joe and Al were simply like, 'We'll do it!' It was this really weird, happy accident."
While At the Hotspot is still very much a Warmduscher album, with all its cracks and crevices oozing garage rock bravado, the production values buff out those jagged edges in a way only these two virtuoso producers could have pulled off.
"We're just really psyched to play this whole thing live now," states Clams matter-of-factly. "And it's a whole revamp—new label, new producers, new logo—new everything."
Doors 7.30pm | Mostly Standing