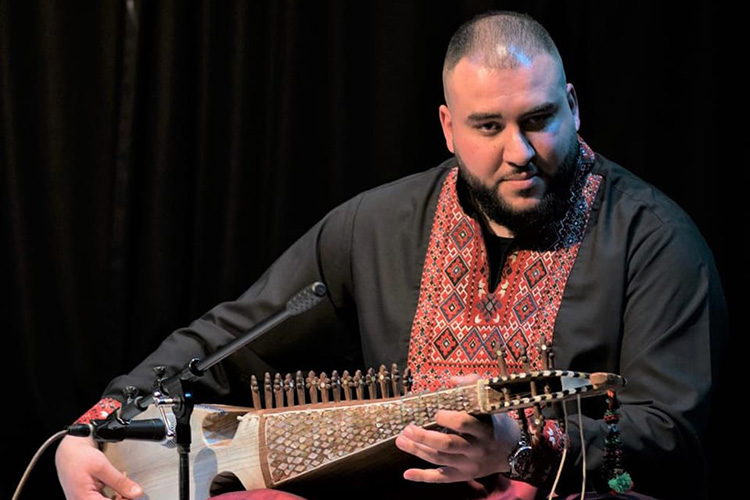 Saphwat Simab + Junaid Ali + guests
The Duncairn
Thursday 4 May, 7.30pm
£10.00
Celebrating the music of Afghanistan and Beyond
Saphwat Simab (Rubab virtuoso)
An official disciple of the world's foremost Rubab master, Ustad Homayoun Sakhi of Afghanistan, Saphwat Simab is a British-born-and-bred artist who has been learning and playing the Rubab since the age of 10.
Saphwat's tone and melodious playing has captured the hearts of audiences at every performance, his on-stage confidence and command on the instrument as well as his command on the rhythmic cycles whilst improvising in any composition with the Tabla accompaniment is mesmerising.
Saphwat has been accompanied on stage by some of the world's most renowned Tabla masters, such as Ustad Sukhvinder Singh "Pinky", Pandit Sanju Sahai and Ustad Shahbaz Hussain.
He has performed at some prestigious venues, such as the Purcell Room at Queen Elizabeth Hall, the National Court Theatre, and the Nehru Centre, as well as at some other relevant venues in the UK, Germany, Switzerland and Canada.
JUNAID ALI
Junaid is a tabla player amongst the younger generation. Being born and raised in London, Junaid is the student of Ustad Shahbaz Hussain and the son of Ustad Zeeshan Ali, a prominent ghazal singer. Junaid is a young exponent of the Punjab and Delhi Gharana of Tabla. Junaid hopes to carry on the legacy of his teacher and grand-father gurus, namely: Ustad Faiyyaz Khan, Ustad Allarakha Khan and Ustad Mian Shaukat Hussain Khan.
In partnership with Alghochak (Afghan Association) & Beyond Skin.
Under the current regime in Afghanistan music is forbidden. This event is Belfast sharing its City of Music status to preserve and celebrate Afghan culture.