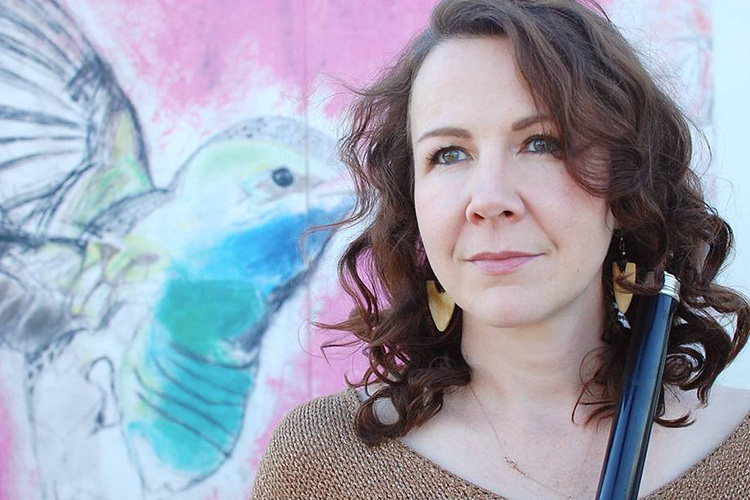 Nuala Kennedy with Tony Byrne and Tara Breen
St Joseph's Church, Sailortown
Tuesday 2 May, 8.00pm
£10.00
World renowned traditional singer and flute player Nuala Kennedy grew up playing Irish music in Dundalk, County Louth and now lives in Ennis, County Clare.
Nuala is known for her creative reworking and reimagining of traditional songs and for her unique Irish flute style, formed in Dundalk and honed in her long-time adopted home of Edinburgh, Scotland.
She is a musical adventurer who is recognized world-wide as a superlative performer of traditional music. Day is Come (2022) by The Alt (with John Doyle and Eamon O'Leary) is the latest release on Under the Arch Records, an independent record label Nuala founded in 2014.
Nuala's roots are first and foremost in Irish music, but she 'something of a genre bender' according to Living Tradition magazine.
Outside of traditional music, Nuala trained as a classical pianist and has toured and recorded with Will Oldham/Bonnie Prince Billie, Norman Blake (Teenage Fanclub), Euros Childs (Gorky's Zygotic Mynci) and is a member of Snowflake Trio, with Norwegian musicians Vegar Vårdal and Frode Haltli.
Nuala recently sang with Janis Ian on her release The Light at the End of the Line.
Tony Byrne, Dublin guitarist, has been involved in music from a young age. Following family holidays in West Kerry, Tony developed an Interest in Irish traditional music and has been involved in the performance, recording and teaching of it since 1999. Past performances include concerts with acts such as Danu, Sharon Shannon, Michael McGoldrick, Gerry o Connor, David Munnelly Band, Matt Molloy, Paul Brady, Julie Fowlis, Lunasa and many more.
Tara Breen, a highly talented multi-instrumentalist from Ruan Co. Clare, has achieved All-Ireland titles on fiddle in every age category over the years, culminating with the All-Ireland Senior Fiddle Title in 2012. In 2014, she joined six-time Grammy award winning band, The Chieftains, and also performs with the legendary band, Stockton's Wing. Tara recorded a wonderful duet album, Nasc, with concertina player Padraig Rynne in 2021.
'A flute player and composer of remarkable finesse, fearless of the unknown.' —THE IRISH TIMES
'Cheeky, dynamic and full of ideas.' —SCOTLAND ON SUNDAY
Doors 7.30pm | Unreserved seating