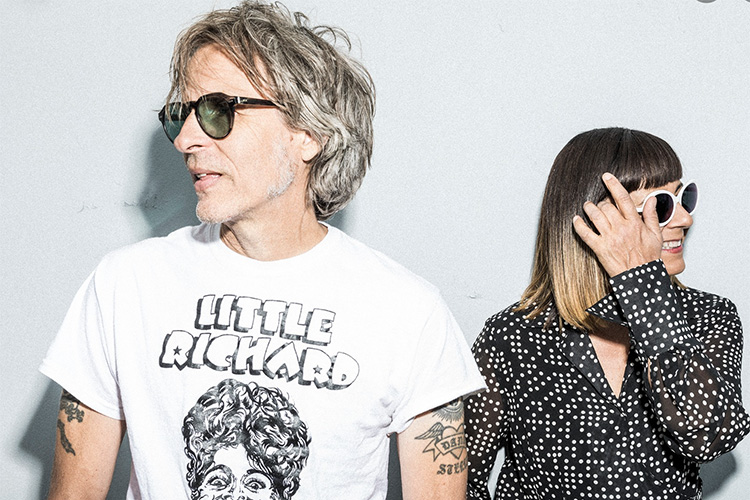 Quasi
Ulster Sports Club
Friday, 5th May, 7.00pm
£14
Early Show – 7.00pm
On Friday 5 May, U.S. indie-rock royalty Sam Coomes and Janet Weiss aka Quasi play their first Belfast show in 17 years at the Ulster Sports Club. After nearly three decades of launching drums and distorted pianos through the shifting interzones of harmony and chaos (moonlighting along the way with the likes of Sleater-Kinney, Elliott Smith, Jon Spencer and the HITmakers, Wild Flag, Built to Spill and a long list of others), the duo continue to be a genre of their own.
Hosted by self-confessed Quasi evangelists The Thin Air, this early show is part of a EU/UK tour, celebrating Breaking the Balls of History, their tenth record – and Sub Pop debut – which lands ten years after their last record, on February tenth. Three tens, which aligns with the thirty years they've played together. Sam Coomes and Janet Weiss have become Pacific Northwest icons, and Quasi has always felt so steadfast – their enduring friendship so generative, their energy infinite, each album more raucous and catchy and ferocious and funny than the last.
Tickets £14.
Support  From COWTOWN
Ever evolving rock band from Leeds consisting of Jonathan Nash on guitar/vocals, David Michael Shields on drums and Hilary Knott on keybass/vocals. They began life as a bizarre grungy noise duo before adding Nash and succumbing to the influence of late 70's/early 80's punk, post-punk and new wave; Devo, B52's, Pere Ubu, Walls Of Voodoo, ESG, Liquid Liquid, Black Flag, Minutemen, Tom Tom Club etc, and the soundtracks that galvanised their earliest listening experiences; Teenwolf, Karate Kid, Gremlins, Beverley Hills Cop, Ghostbusters etc. Couple that with an obsessive fascination with They Might Be Giants (which explains away their namesake) and you have some idea of what to expect from the trio. Four albums in with a fifth on the way, there's a chance you may be stuck with COWTOWN indefinitely…sorry"
Press for Breaking The Balls of History
"Breaking the Balls of History is a gritty rendering of Quasi's classic garage sound, spearheaded by the blistering single "Nowheresville," serving as a long-awaited return to form for the band—who bring a triumphant masterclass to the forefront of Sub Pop's modern catalog 10 years after their last record, Mole City." ["The 33 Most Aniticpated Releases of 2023"] –PASTE
"[Queen Of Ears] Has all the Quasi earmarks: pointed lyrics, jagged melodies, skronky organ, bashing drums, and Sam & Janet's distinctive harmonies." – Brooklyn Vegan
"Lead single "Queen Of Ears" finds Coomes and Weiss bashing away on their keyboard and drums, respectively, lending a raw edge to an otherwise bright and poppy song. The backing vocals are clutch on this one."- Stereogum
"A punchy blend of state-of-things stream of consciousness and melodic brightness signals the much-awaited return of Pacific Northwest legends Quasi." – Shindig!