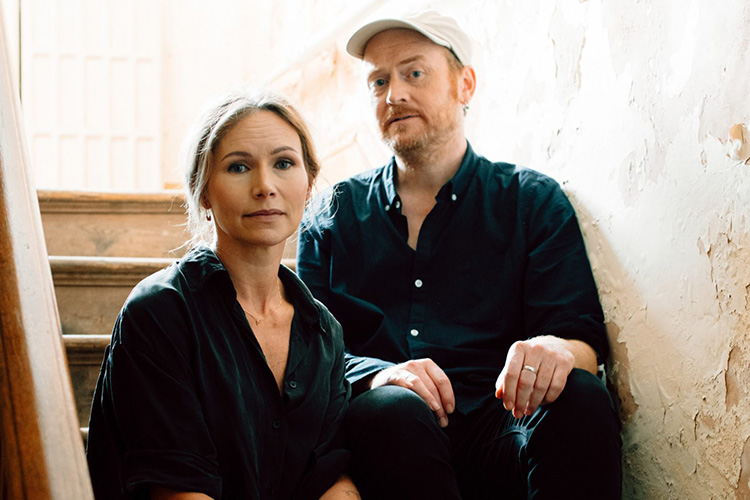 James Yorkston & Nina Persson
The Black Box
Friday 28 April, 8.00pm
£18.00
James Yorkston, the gentleman-songwriter of the East Neuk of Fife, has released a series of albums of tenderness and melody, insight and empathy. His eye for the details in life and the richness of his brogue make a Yorkston song instantly recognisable.
His 2021 collaboration with Karl-Jonas Winqvist – the Swedish music producer, leader and conductor of The Second Hand Orchestra – resulted in the soothing, warm and sublime The Wide, Wide River (a Guardian Top 10 Folk Album of the year).
Shifting from writing on guitar to piano in early 2021, James sent 5-6 songs to Karl-Jonas, and a second collaborative release, featuring Nina, was born, the equally beguiling The Great White Sea Eagle (out January 2023).
Nina Persson became an international star in the 1990s fronting Swedish pop/rock sensations The Cardigans, before releasing a series of acclaimed albums under her own name and as A Camp. She's also collaborated with such artists as composer David Arnold and Manic Street Preachers, and – as Nina Letar Jazz – The Soundtrack Of Our Lives' Martin Hederos and Nils Berg.
On The Great White Sea Eagle, Yorkston shows again that he is a significant 21st century songwriter who has chosen the perfect, if unlikely foil of Persson to help realize his compositions. It's a beautiful, hand made collection of natural and unforced songs to be treasured. 
'Songs crisp as winter sunlight' – 8/10 MOJO
'Unearthly beauty from Scottish folk musician/author and Cardigans singer' ⭑⭑⭑⭑ UNCUT
'A beautifully absorbing album…The two voices – one a Scottish folk mainstay, the other a Swedish pop luminary – intertwine to bold, sometimes dramatic effect. A work of real refinement' – CLASH
Doors 7.30pm | Unreserved seating