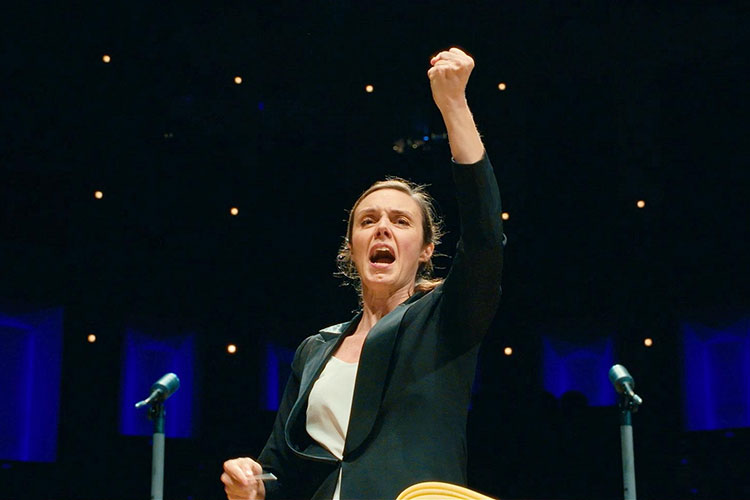 Maestra
Queen's Film Theatre
Saturday 27 January, 6.00pm
Doors 5.45pm
£8.40
Buy Tickets
Presented by Ulster Orchestra, QFT, Oh Yeah Centre, Out To Lunch and Red Wolf Films.
We are delighted to welcome Director Maggie Contreras to Belfast to talk about her film.
Following the buzz of Tár, Maggie Contreras' documentary Maestra follows several women from around the world as they compete in the only all-women competition for conductors. This ultra-competitive field is riddled with long-standing issues of sexism, and each participant is approaching the contest with fierce tenacity.
Through her efforts in profiling these women, Contreras reveals how childhood abuse, maternity discrimination, and gendered expectations have moulded them as individuals. These disparate experiences paradoxically unite them in a common cause while distinguishing their priorities. One woman wonders whether she should start having children, while another wants to prove herself after being fired for being pregnant.
In contrast to the wild gesticulations required of the competitors, Maestra is relatively laid back in its approach, taking time to familiarise us with each woman before the competition starts. Yet a palpable tension starts to build as the competitors are eliminated one by one, despite everyone being a champion.
While Maestra focuses on women conducting orchestras, the film speaks to a bigger issue about gender equality. – Danielle Solzman
Watching people dear to us not make it can be heartbreaking, but by the end, the movie proves a paean to the resilience and hard work of this vibrant collection of brilliant musicians. 
They all deserve a standing ovation. – Christopher Llewellyn Reed- Film Festival Today