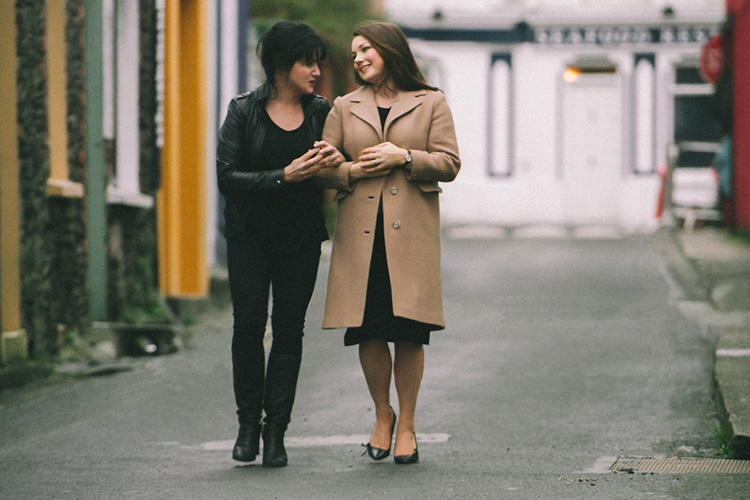 Lumiere & The Wilderness Way Book Launch
The Black Box
Saturday 27 January, 2.00pm
Doors 1.30pm | Unreserved seating
£12.50
Buy Tickets
The story and songs of Irish emigration & the American Civil War
Lumiere brought together two distinct voices cut from the same geographic cloth. One is Éilís Kennedy, whose sound has ready access to the soul without need for scaffolding or spotlights. The other is Pauline Scanlon, an award- winning singer from the same Kerry town of Dingle.
Since their debut launch, the duo has toured their distinctive sound from the cosy snugs of their native Dingle to international concert halls, and a worldwide audience has connected with their offering of real music, by real singers, communicating real emotions.
As a duo, Lumiere takes something that is sacred and age old and re-imagines it simply and beautifully, reclaiming beauty, truth and trust for the modern age. The big themes of love and loss, of place and people, of longing and lament, are present in both records Lumiere and My Dearest Dear.
The Duo's immersion in the west Kerry singing tradition, and their ability to communicate it's beauty remains a steadfast trait of their live performances. In the past decade both singers have produced a huge body of work in solo albums, but the draw to sing together has always been there. Lumiere are re-emerging in new light, with fresh stories to tell and old songs to reveal and awaken.
The Wilderness Way is a cross-Atlantic historical fiction set in Donegal and the US during the American Civil War. Inspired by true events, it tells the harrowing tale of a family evicted by Glenveagh landlord John Adair in 1861. To escape the workhouse two brothers emigrate to New York where they are drafted into the Union Army.
Set against the wild landscapes of Ireland and the battlefields of the American Civil War, this sweeping narrative takes us on an epic journey to understand the strength and endurance of the human spirit.
 Debut novelist Anne Madden, from Belfast, has teamed up with Lumiere to highlight through song the big themes of the book – eviction, emigration and the fate of so many Irish in the Civil War (1861-65).
 "I'm delighted to launch my novel with the tremendously talented Lumiere whose haunting harmonies and musical repertoire of this period will really bring the story to life. I think this will be a very special event for anyone interested in Ireland's recent past and the eternal human struggle of emigration."
The Wilderness Way, is published by HarperCollins, and will be available to buy along with Lumiere music at the event.