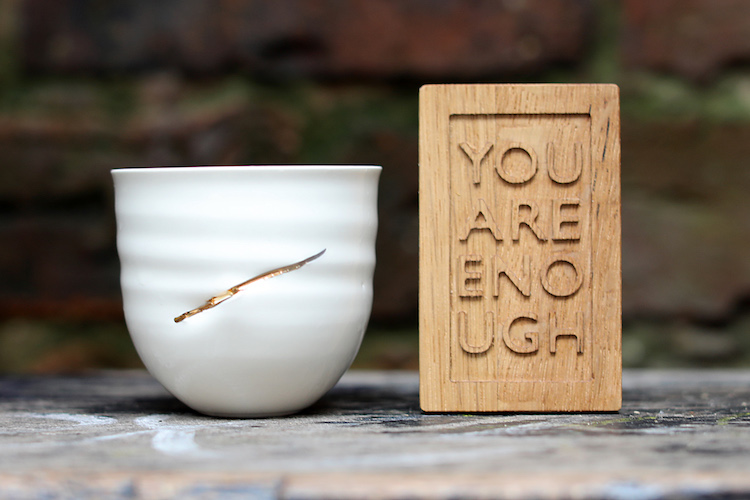 Gift to the City, Micah Purnell & Rachel Ho
The streets of Cathedral Quarter
During the last weekend of Cathedral Quarter Arts Festival, 6-7 May,
ceramicist Rachel Ho, artist and designer Micah Purnell and painter Orla Gilkeson
will leave 300 beautiful 'gifts to the city' around Cathedral Quarter to find and keep,
to remind us to embrace our stories of loss and self-worth.
Artists will leave 100 Kintsugi pots, 100 You Are Enough oak engravings, and 100 square abstract paintings which the public are invited to find, and keep as gifts. The art will be placed on the streets of Belfast around Cathedral Quarter on the final weekend of CQAF, 6-7 May.
Each gift will be accompanied by an invite to share anonymously how the artworks resonated with those who find them at www.gifttothecity.org where you'll be able to read stories of difficulty and hope as the artworks are found.
Rachel Ho (www rachelho.co.uk) is a ceramicist who has exhibited nationally. Her work is inspired by Kintsugi, an ancient Japanese method of mending broken pottery with gold, resulting in more precious pots. Rachel explains: "I deliberately scar the porcelain pots to symbolize the fragility of our lives. These scars are then filled with gold lustre; expressing the mystery of new beginnings and new life even in our deepest pain. Everyone bears a scar, whether physical, mental or emotional. The scarred pots represent all our stories of loss and reflect the beauty of hope, healing and renewal.  Just as ancient pots have told stories for thousands of years, my art continues in that tradition connecting ceramics with some of our deepest stories."
Micah Purnell (www.micahpurnell.com), whose clients include The Guardian, Elbow and the NHS, is a text based artist who has exhibited in group shows alongside Turner prize winner Douglas Gordon and global street artist JR. The award-winning artist and designer, renowned for his typographic work that took over Wembley Park during the Euros works to bring the humanities to public spaces. His well known phrase 'You are Enough' has appeared across the city over the last few years as giant banners and billboards. He says:
'My work is a lot about togetherness and self-worth. The oak reminders are made by Chapel-in-the-fields who use wood as a vehicle to work with people who have mental health vulnerabilities. I hope the phrase You Are Enough will help people to cut themselves some slack from the ever demanding voices in society and recognise the spark of beauty in themselves."
Accompanying Rachel and Micah will be Orla Gilkeson who will be leaving 100 square abstract paintings.
Orla Gilkeson (www.orlagilkesonart.com) is a contemporary Northern Irish artist whose work explores memory and a sense of place, often through abstracted landscape paintings. This collection of 100 paintings uses salvaged wood as a vehicle to communicate the importance of restoration and hope through the connections we make with what we find around us.
'I have created 100 abstract paintings on wooden squares salvaged from old pallet boards. Each one bears a unique visual history of layers, marks, and scores with faint, gold lifelines of hope running through. We are replenished when we seek to salvage the lost and forgotten parts of ourselves and our worlds, creating threads of hope through connection.'
'Gift to the City' is a Passion Art project. It is dedicated to our late friend and founder Lesley Sutton, who passed away shortly after Gift to the City in Manchester, in the summer of 2022. Lesley founded Passion Art to build bridges between sacred and secular spaces through art. She was as beautiful in dying, as she was in living.
The project aims to help people feel seen and less alone, to recognise we all have our daily battles and to create a sense of hope and healing.
www.gifttothecity.org  //  #gifttothecity
PASSION ART
@PassionArtTrail twitter @passionartuk insta
Rachel Ho
www.rachelho.co.uk  //  rachdot@hotmail.com  //  @rachelhoceramics insta  @rachelhoceramic twitter
Micah Purnell
www.micahpurnell.com  // studio@micahpurnell.com  //    @micahpurnell insta
0161 236 5459 or  07990 533 749
Orla Gilkeson
www.orlagilkesonart.com orlagilkesonart@gmail.com
@orla.gilkeson.art   insta
You can anonymously share how the gifts resonate with you: www.gifttothecity.org