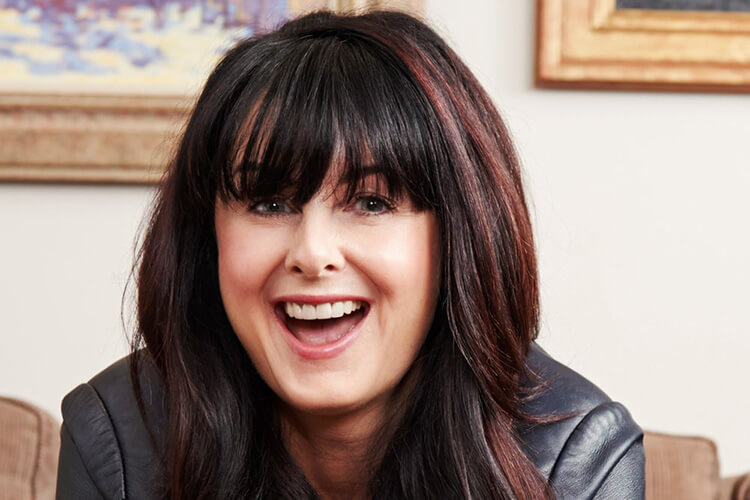 RESCHEDULED – Marian Keyes in conversation with Roisin Ingle
Festival Marquee
Saturday 4 May, 1.00pm
£8.00 (including Soup & Roll)
Book Tickets
Unfortunately Marian has had to reschedule her Friday 18 January show until Saturday 4 May in the Festival Marquee at the Cathedral Quarter Arts Festival. More tickets are available from the link above.
Marian Keyes is one of the most successful Irish novelists of all time. Though she was brought up in a home where a lot of story-telling went on, it never occurred to her that she could write. Instead she studied law and accountancy and finally started writing short stories in 1993 "out of the blue."
Though she had no intention of ever writing a novel ("It would take too long") she sent her short stories to a publisher with a letter saying she'd started work on a novel. The publishers replied, asking to see the novel and, once her panic had subsided, she began to write what subsequently became her first book, Watermelon.
It was published in Ireland in 1995, where it was an immediate runaway success. She has gone on to write thirteen novels and three collections of journalism and short stories, all of which have been bestsellers. Marian is now published in thirty-six languages. Marian's latest novel, The Break, was published by Penguin in 2017.
Roisin Ingle is a columnist, editor and podcaster with The Irish Times. She is the author of two collections of her columns, Pieces of Me (Hachette) and Public Displays of Emotion (Irish Times Books) and is the co-author of The Daughterhood (Simon and Schuster) with Natasha Fennell which has been published in several languages.
She produces The Women's Podcast and presents her own podcast 'Roisin Meets …' on The Irish Times online.
Doors 12:30pm | Unreserved Seating