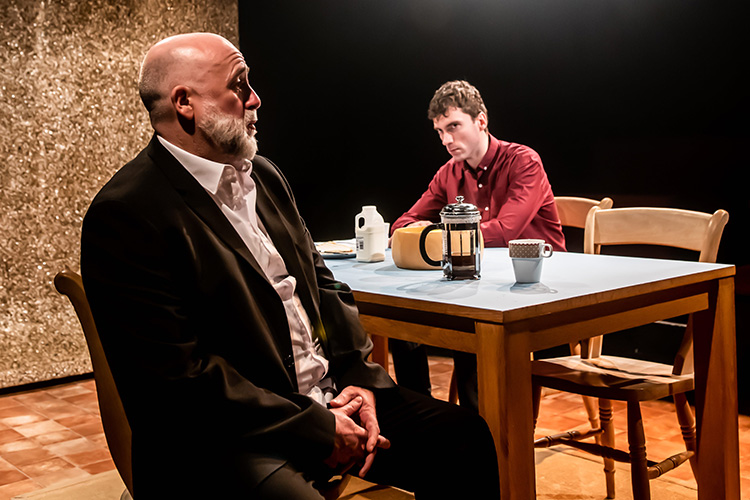 Presented by CQAF and The MAC
Not Now
The MAC
Thursday 4th May, Friday 5th May, 7.45pm 
£18.00
Not Now is a sharply written, heartfelt comedy about the past, identity and moving on – from David Ireland – the multi-award-winning author of Cyprus Avenue.
"You're an Irish Daniel Radcliffe."
"I'm British!"
"You're a British Daniel Radcliffe. From Ireland."
The morning after his father's funeral, an unsure and still grief-stricken Matthew prepares to fly to London to audition for the prestigious drama school, RADA.
When his painter-decorator Uncle Ray interrupts his private rendition of Richard III's opening monologue to offer some unwanted direction and dubious career advice, Matthew starts to doubt whether he should really be leaving Belfast in the first place.
Or is Belfast where he truly belongs?
David Ireland's dialogue is nonstop sparkle; the development of the play is beautifully judged in Max Elton's production, as the boy (Matthew Blaney) moves from gangle and sullenness to candour and the uncle (Stephen Kennedy) from joviality to reluctant disclosure.
There is, as always with Ireland, an unflinching look at Protestant politics, but Not Now adds different notes. His greatest play so far, Cyprus Avenue, was a satire fuelled by an imaginative flight of which Jonathan Swift would have been proud. This drama has a new warmth. It also clinches on a beautiful reanimation of Shakespeare's words about changing "dreadful marches to delightful measures". The Guardian. Review of  Glasgow production.
★★★★★Five Stars, London Theatre 1

★★★★★Five Stars, Close Up Culture

★★★★The Guardian
★★★★Four Stars, The Observer

★★★★Four Stars, The Stage

★★★★Four Stars, Daily Mail

★★★★Four Stars, Morning Star

Off West End Award Nomination for LEAD PERFORMANCE IN A PLAY Matthew Blaney

Off West End Award Nomination for LEAD PERFORMANCE IN A PLAY Stephen Kennedy
This production was first produced in association with Neil McPherson at the Finborough Theatre'
Approximately 50 minutes with no intervals.
Production Team
Director: MAX ELTON
Designer: CECI CALF
Sound Designer and Composer: JACK BAXTER
Lighting Designer: MATTIS LARSON
Associate Producer: BRIAR KNOWLES
Producer: SARAH ROY