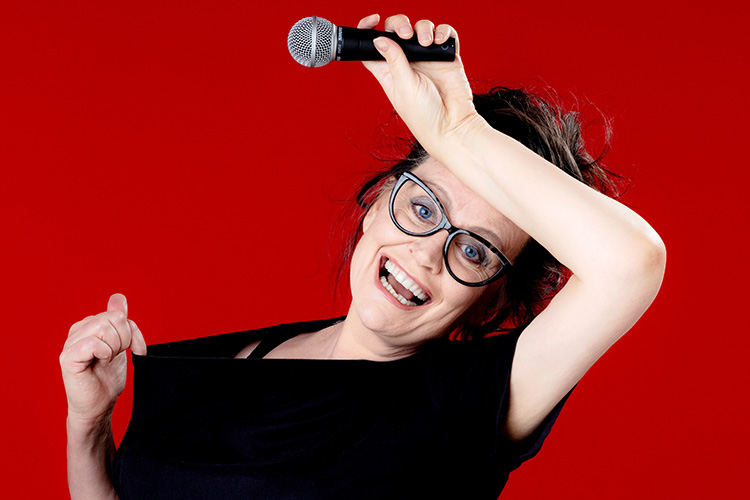 Anne Gildea – How to Get the Menopause and Enjoy It
The Black Box
Monday 1 May, 8.00pm
£12.00
Anne Gildea is waxing her moustache, slathering on the Oestrogel and boiling with excitement about bringing her fabulous hit show to CQAF.
How to Get The Menopause and Enjoy It has been wowing audiences and critics alike, and playing to packed house all over Ireland, since it's sell-out launch last year.
An original, informative, wet-your-pants excursion through one of life's last great mysteries – The Menopause! What is it? Why does it happen? Is there anything you can do about it? Why is it named after men? And why oh why is so little known about this inevitable phase of a woman's life? Anne answers all these questions and more as she brings TMI to a whole new level.
'This funny and taboo-busting work blasts the lid right off…Never has the female body been put under such an hilarious microscope…utterly punk' –KATY HAYES, IRISH INDEPENDENT
What Audiences Are Saying
"I rarely find myself laughing so hard for so long at a live comedy event. Your writing, your energy and your added sparkle is worthy of the over-used term."
"awesome…there's nothing for it now but to bring a few buddies to forthcoming shows. I will be a How to Catch the Menopause and Enjoy It groupie."
"Went with 10 friends tonight. Actually have a pain in my stomach from laughing n tears ran down my face! Thank u so much for this important work."
"I enjoyed it so much I went a second time and brought the husband. He had tears streaming down his face with laughter."
'The funniest, most honest, and real show I have ever been to!"
"I'm sitting here today still laughing away to myself… loved every minute of last night … thank you." "Fab night full of laughs, great for the soul."
Doors 7.30pm | Unreserved seating