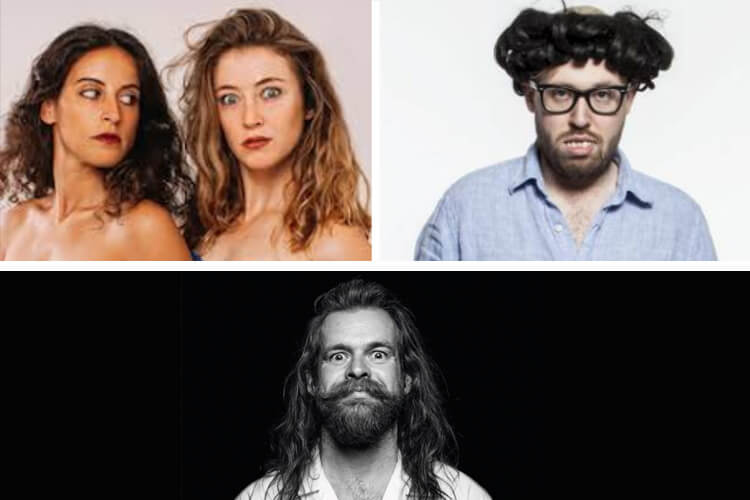 John Kearns, Roisin and Chiara + Paul Currie MC
The Black Box
Sunday 20 January, 8.00pm
£10.00
Book Tickets
Tonight's show marks the launch of Bivouac Comedy Club. Curated and hosted by Edinburgh Comedy Award winner, Paul Currie, Bivouac will feature the best alternative comedy from across the UK and beyond. We're delighted to host the opening night of Bivouac as part of Out to Lunch.
John Kearns
The only ever winner of both the Best Show and Best Newcomer prize at the prestigious Edinburgh Comedy Awards makes his Northern Irish debut with his 'richly idiosyncratic comedy, frequently compared to Tony Hancock' (Guardian).
As seen starring in BBC3's Top Coppers, guesting on C4's 8 Out of 10 Cats and heard on his own BBC Radio Fourseries.
Following highly acclaimed, sell-out runs at the Edinburgh Fringe and at London's Soho Theatre, John dons his false teeth and monk wig for this Festival exclusive.
A supreme stand-up – you're in the hands of a master . -**** GUARDIAN
A true comedy original. –  ***** TIME OUT
Bold, hilarious – he's forged comedy gold –  ***** CHORTLE
Roaringly funny, hugely impressive. –  **** SCOTSMAN
---
Roisin and Chiara
Róisín and Chiara's lightning-paced, rhapsodic storytelling, told in uncanny synchronicity, brings to life a plethora of irresistibly well-observed character vignettes unlike anything else on the scene.
A bubbling, slightly twisted blend of The Mighty Boosh, House of Pain and James Joyce. Call it stream-of-consciousness, messy art-house disco funk comedy. A two-woman character sketch comedy bonanza
Sensual, spiritual, baffling, staggering… hilariously unpredictable. –  ***** THREE WEEKS
Meet 'The Mighty Boosh on acid. –  ***** BROADWAYBABY.COM
Redefining live comedy. –  VICE.COM
---
Paul Currie
Beautifully daft, Paul Currie's shows are comedy in its purest form. A frenzy of silliness and joy, coupled with an at times perfectly pitched melancholy that serves only in making the laughter louder.
The way Currie interacts with the crowd is a marvel in itself as he effortlessly manipulates them with barely a word. The audience are treated with love and respect and it's hard to see a face that doesn't grin with childish glee at the antics in the room.
Wish I'd seen him sooner, I'll be back to see him every year now. Paul Currie was my favourite comedy show of the fringe – STEWART LEE
A unique blast of silly that's found its groove and place amongst the Fringe's elite… he's fast developing a cult following…. everything Currie does has the spirit of Vic and Bob, The Young Ones and everything surreal that's come before or since. – ***** EDFEST MAGAZINE
Doors 7:45pm | Unreserved Seating