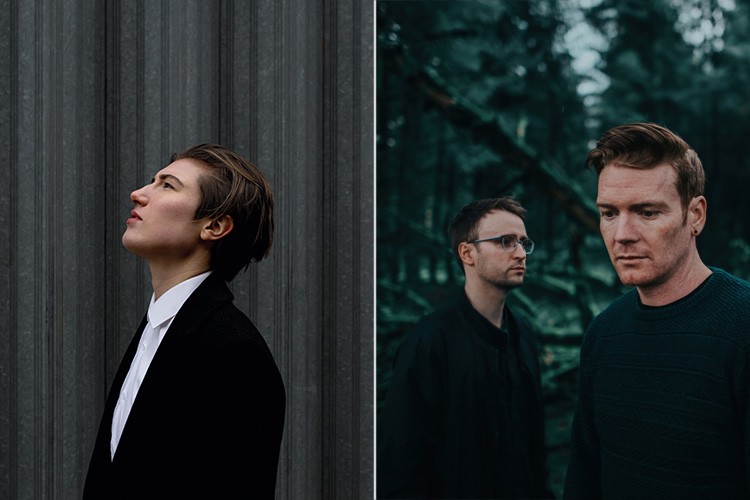 Kitt Philippa/Elma Orkestra & Ryan Vail present 'BORDERS'/Ulster Orchestra
Ulster Hall
Wednesday 6 May, 8.00pm
£15.00
Book Tickets
Kitt Philippa
With all three of the first singles from Kitt Philippa's debut album nominated for Best Song by the Northern Irish Music Prize – the expectation was high for the album release and it didn't disappoint. The County Armagh native released Human in October 2019 to widespread critical acclaim from sources such as Sunday Times Culture Magazine, which described the album as "astonishing".
Although growing up largely in a classical music environment, Kitt Philippa's influences have been broad, and their song-writing and performances reflect a craft steeped in contemporary urban and digital soundscapes; from their home life inspirations; to Queen's University; to an introductory stage talent development scheme at the Oh Yeah Music Centre, Belfast, to performing their original music live onstage with the Ulster Orchestra at the ripe old age of 21 and beyond.
Kitt Philippa (KP) has been championed by Mary Anne Hobbs (BBC 6 Music), Tom Robinson, Phil Taggart (BBC Radio 1) and Huw Stephens, RTE 2FM, Today FM amongst others.
Elma Orkestra & Ryan Vail
While much has been made of their 2019 'Album of The Year' victory at the Northern Irish Music Prize, Borders – the electro-acoustic collaborative album of Elma Orkestra and Ryan Vail – also saw a shortlisted nomination for 'Best Live Act'.
Those who have witnessed it first-hand are sure to agree. An audio/visual spectacle that combines the forward-thinking modernity of Vail and delicate composition and production of Elma Orkestra, the Borders live experience must be seen to be believed.
A symphony of electronic and analogue components combines to enhance the live Borders show beyond its natural boundary. With drone footage of the Irish border and countryside, string players and classical composition, the assault of the senses from Elma Orkestra and Ryan Vail rivals that of any in Ireland, and it has taken them from deepest Mexico to the Berlin Wall.
A unique opportunity to experience our great local artists with the full Ulster Orchestra and original arrangements of their work.
Doors 7.30pm | Unreserved Seating